What is the Almond Blossom Festival?
The Almond Blossom Festival is Ripon's largest tradition of the year with an entire weekend of celebrations and events. Beginning in 1962, the Almond Blossom Festival is steeped in history and has become more than just a festival, but a season of tradition, memories, and Ripon comradery. 
The Almond Blossom Festival is always the last FULL weekend of February with this year's dates ranging from Thursday, February 23rd- Sunday, February 26th, 2023. There are many events that happen around Ripon that weekend, but the festival itself is put on and run by the Ripon Chamber of Commerce. Chamber events include- The Miss Almond Blossom/Miss Ripon competition (see Miss Ripon Page for more information), the carnival at Mistlin Sports Park, the vendor fair at Mistlin Sports Park, the Fun Run, the Almond Blossom Parade, and the Diaper Derby.
This year we are proud to celebrate the 61st anniversary of the Almond Blossom Festival and honor the traditions and history of our town. 
Almond Blossom Festival 2023
February 23rd-26th, 2023
Kick-Off Speech Night
January 12th, 2023
Fashion Show
February, 8th, 2023
Vendors
February 24th-26th, 2023
Parade
February 25th, 2023
Fun Run (1 Mile & 8k Races)
February 25th, 2023
Diaper Derby
February 25th, 2023
Bake-Off
February 23rd, 2023
Almond Blossom Festival 2022 Grand Marshal
We are beyond proud to present our Almond Blossom Festival 2022 Grand Marshal- The Ripon Garden Club! Each year, the Almond Blossom Grand Marshal is the focus of every aspect of the festival with the overall theme stemming from the values and ideals of their organization. With the Ripon Garden Club as our Grand Marshal, this year's theme will be- "Plant it, nurture it, watch it grow".
The Ripon Garden Club is a 501-c3 non-profit with a mission to stimulate the knowledge and love of gardening, to aid in the protection of native trees, plants, and birds, and to improve and protect the quality of the environment through programs and actions in the fields of conservation and education. The club is led by a group of volunteers joined together by a love of gardening and dedication to giving back to the community through civic beautification, school enrichment, and student scholarships. You can read more about their organization here!
Thank you to our Sponsors!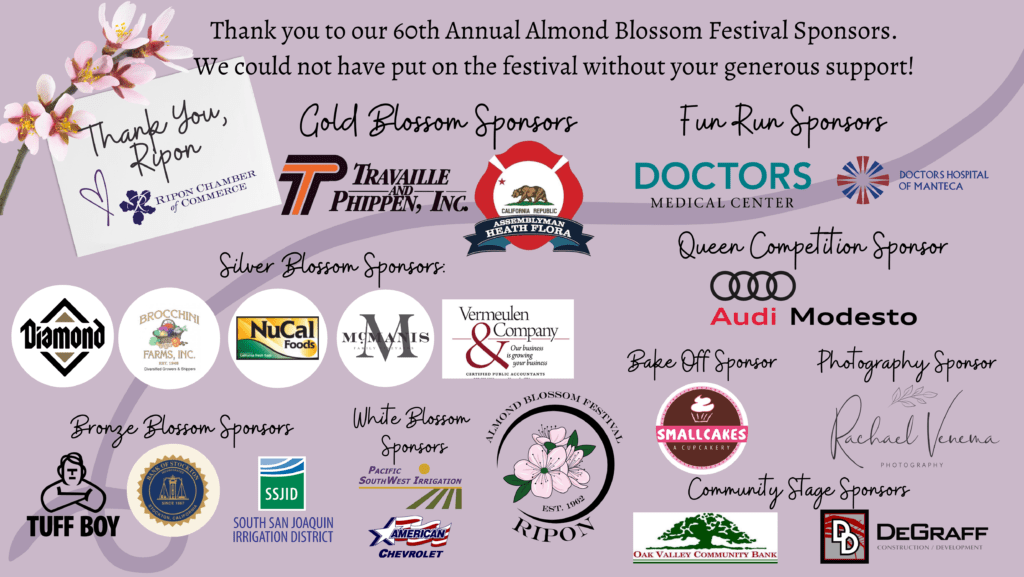 Congratulations to all of our winners!